Organize your shift with
NurseTasks.
The to-do list and reminder app for nurses.
Level Up!
NurseTasks is the perfect companion app for all nurses and nursing students looking to up their nursing game.
Unlike generic to-do list apps, NurseTasks was designed specifically for nurses, by nurses.
Let's take your organization, time management, and productivity skills to the next level!
Boost
Productivity.
Improve your patient care by completing tasks in a timely manner.
Track your performance over time and visualize your progress.
Stay
Organized.
Color-coded reminders and push notifications help with time management skills, and ensure the completion of tasks on time.
Stay organized with multiple options to group your tasks by patient or by shift.
Built For
Nurses.
Get up and running fast with included templates designed by real nurses.
Working back-to-back shifts? Recover your last patient assignment and tasks.
Free Nursing Report Sheets
We offer 10 free nurse report sheet templates with PDFs and editable Docx files.
Free Download
1-4 patients per sheet, portrait and landscape options available
Perfect for med-surg, ICU, tele, step-down, and ER units
SBAR and Brain format
Check out our free report sheets!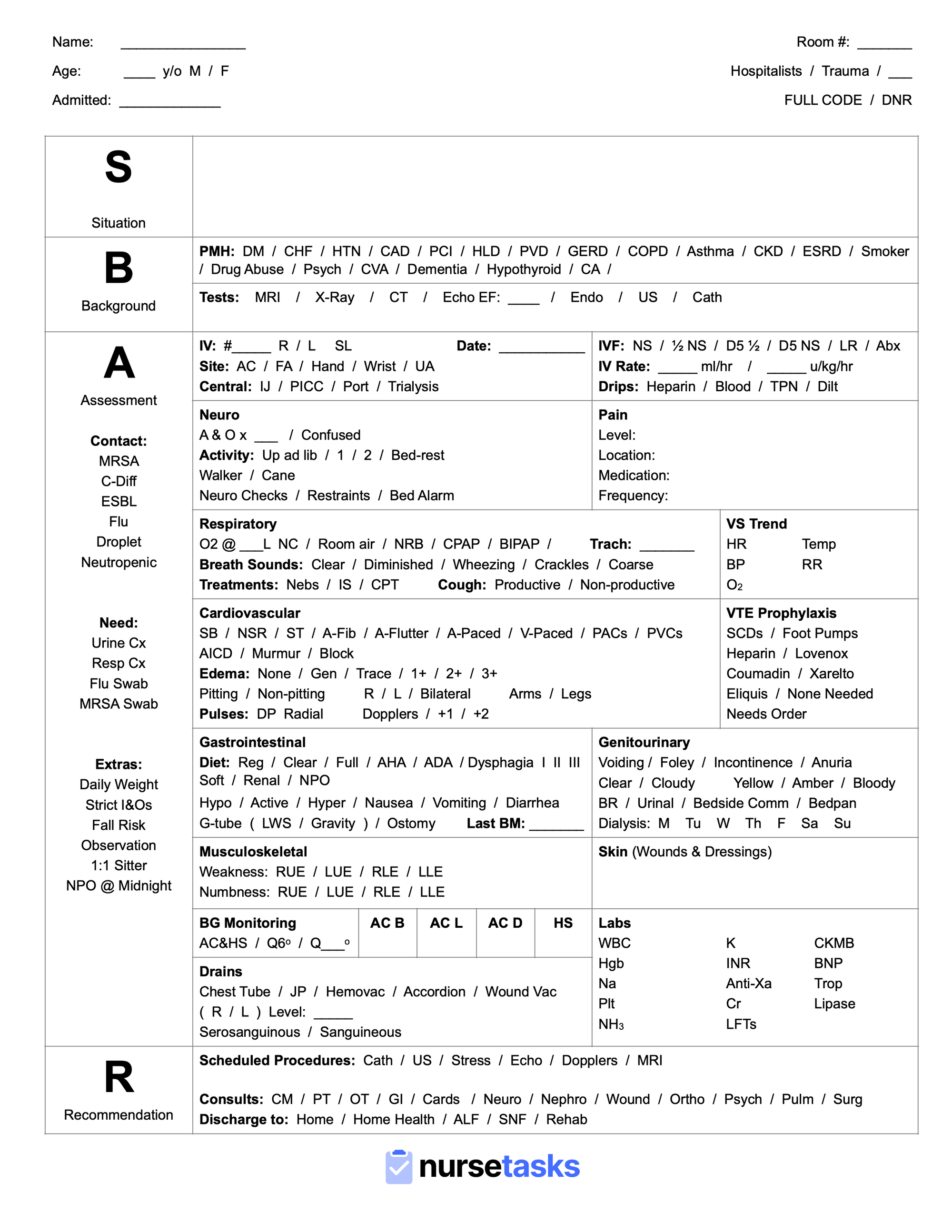 FAQ
Still have questions? Visit our support center for assistance.
Get Support
What is NurseTasks?
NurseTasks is a niche to-do list, reminder, and task management app built specifically for nurses. Unlike generic to-do lists, NurseTasks has been optimized for a nursing workflow and will be easier and faster to use.
Don't EMRs have this?
There may be some overlap between what EMRs and NurseTasks can do. However, if you want an app that can create advanced alarms/reminders and send you push notifications to your phone, that's something your EMR can't do.
EMRs are also designed to do a lot more than create to-do lists and handle task management. Because NurseTasks focuses on this one item, we can optimize your experience for this specific need.
Who is NurseTasks for?
NurseTasks is a perfect companion app for all nurses and nursing students with any experience level. That being said, nursing students and new grad nurses may benefit the most from NurseTasks since they are still developing time management skills which can take years of clinical experience to master.